Information About Our Products
Scroll down to check out some the cool features we offer!
For Each Custom Order, We Need:
• Shaft Size - (diameter or circumference)
• Shaft Length
• Glans Length
For a device with a base ring, we need:
• Base Ring Size - (diameter or circumference)
• Ring Gap
If you have piercings we need:
• Piercing Gauge
• Piercing Depth
For LeSac only, we need:
• Ball Cage Size - (length and width)
We use millimeters for everything.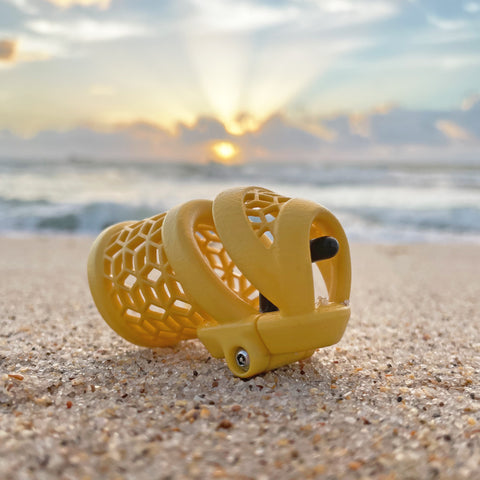 Customizations
We offer numerous options for customizing and personalizing your chastity device, and we are always open to new ideas!
Filigrees and Patterns
Another unique feature of Evotion Chastity is our ability to design your cage with a filigree or pattern.
Filigrees are beautiful and practical, allowing for ventilation and cleaning.
Any of our filigrees can also be applied as a pattern on the outside of a solid fill for those clients that prefer a smooth interior surface.
Take a look through the site to see examples of all these filigrees and patterns on various devices.
We can also create custom patterns for a modest charge.
Shown here:
Devoted, Axiom, Cubez
Bars, Prophesy, Lux
Hex, Scala, Facets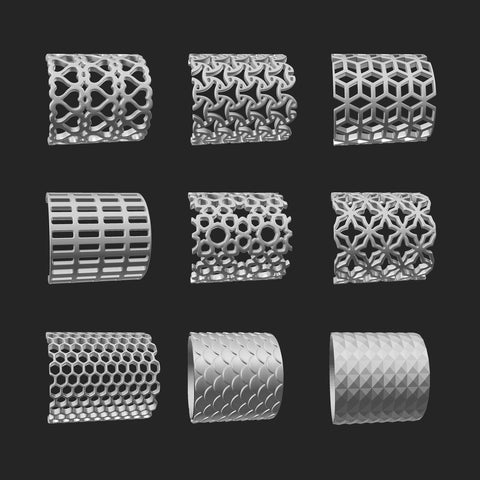 Security Screws
Evotion Chastity uses Security Screws in most cases. If you have an older device with a lock, don't worry, we will continue to support you!
Our stainless steel Security Screws have an asymmetrical, five sided socket and key that are specifically made for each other. They are highly resistant to tampering, and the keys cannot be sourced from anyone but us.
The keys are made of tool steel, not brass, and will fit any 1/4" hex drive handle.
The key only fits into the socket in one orientation, rotate the key until it slots fully into the screw head.
Each order will ship with a plastic driver handle. Decorative key handles and holders are in the works. Contact us to find out what we are offering.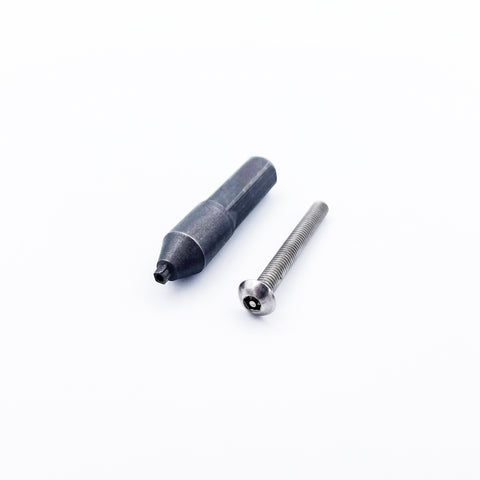 And a few more things to know:
• Each customer's design is kept on file indefinitely and can be re-ordered, modified, or accessorized at any time.
• We can accommodate virtually any size, from micro to massive.
• We use 4 different 3D printing technologies and numerous surface finishing techniques.
• Security checkpoints are no problem for our plastic devices with their tiny Security Screws.
• Plastic devices are nylon, which is extremely durable and safe to wear against the skin.
• Our Steel devices are stainless steel 316L.
• Evotion products are designed & made in the U.S.A. All orders are assembled and shipped from our shop in Colorado.